Material Handling Equipments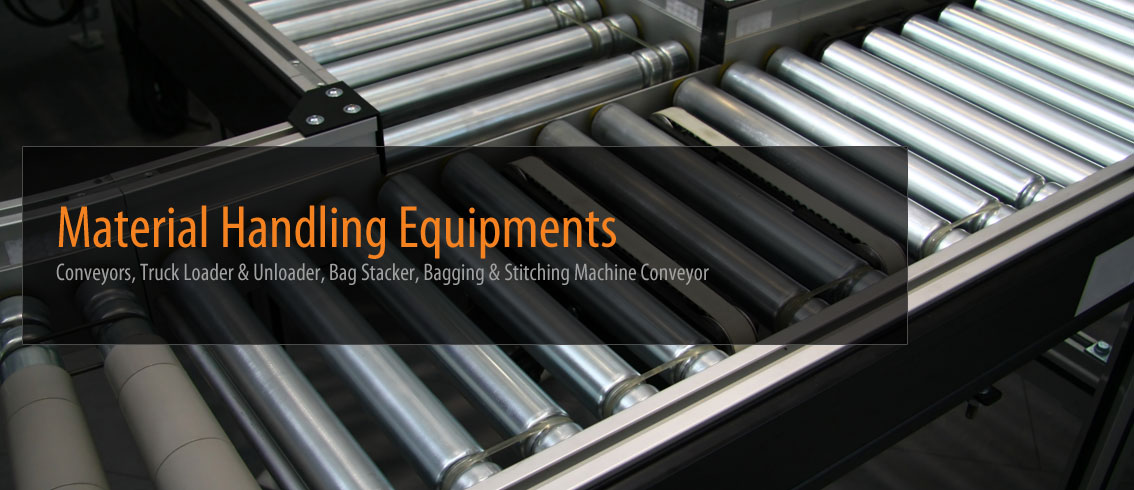 Inclined Belt Conveyor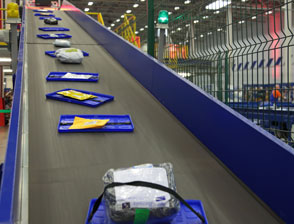 A very useful material handling system for transferring Material from ground level to upper level. Each conveyor is designed according to their load carrying capacity.
Modular and light in weight with imported belt for proper grip to avoid slide down of material. Degree of Inclination varies from 1° to 45° depending on the requirement of the customer and material characteristics.
Can be used for both up and down movement.
Conveyors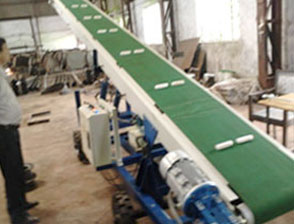 Modular design and customised features and performance makes it a top most favorite with customers who wants to handle the logistics (50 Kg Bags of grain, Soya, DOC, Sugar etc) in the warehouse where after automatic weighing and bagging, bags are lifted, diverted, raised, lowered for either loading in trucks or for stacking in the storage areas.
Truck Loader & Unloader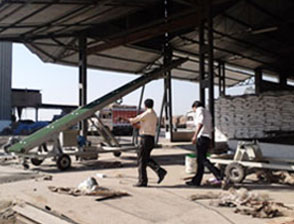 Its unique design for loading and unloading of 50 kg bags both jute and hdpe, makes it a favorite in Soya grain, sugar industries.
Having a minimum feeding height of 300 mm and a maximum 3 Meter height makes it very competent for loading to and unloading from the Trucks.
Entire conveyor is mounted on an easily maneuverable trolley. A 2 HP Hydraulic Power Pack takes care of the raising and lowering. Imported German make control Panel with IP 65 enclosure and Variable Frequency Drive of reputed make ensures efficiency. Designed for 5 TPH or 100 bags of 50 kg per hour.
Bag Stacker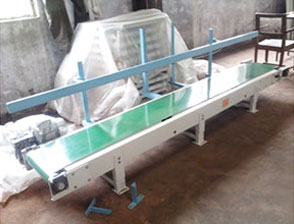 Tyco Bag Stackers are most useful for stacking 50 kg Soya (seed or DOC), grains, Sugar bags either jute of hdpe.
With a top height of 15 feet it reduces the time and manpower considerably and become an indispensable part of storing activities.
Easy maneuverability, short radius for turning and equipped with 2 hp hydraulic power pack, imported control panel, belt and various other user friendly features adds up its efficiency quotient.
Bagging & Stitching Machine Conveyor
This is an indispensable part of Tyco make Automatic weighing bagging and stitching Machine.
Compatible belt speed, imported Aluminum dye cast geared motors, stitching machine tower, Control panel are some of its features.
The problem of handling of Material at any industrial unit, big or small, has been faced by all who are responsible for transfer of the material from one point to another within a specified time schedule, either because of its volume or weight or some peculiar characteristics. But whatever the case may be or whatever may be the reason, the problem of handling of material remains of major concern for the people who are responsible for the production of material at industrial units where a deadline has to be met.
Tyco having its past four decades of experience in various industrial application, including Automatic Bagging and Weighing Machines, has designed tailormade conveying systems for various packing & processline conveying systems which are very appropriate in terms of performance, early payback period through saving on power and manpower, and commercial feasibility.
Product Videos