Automatic Weighing & Bagging Machine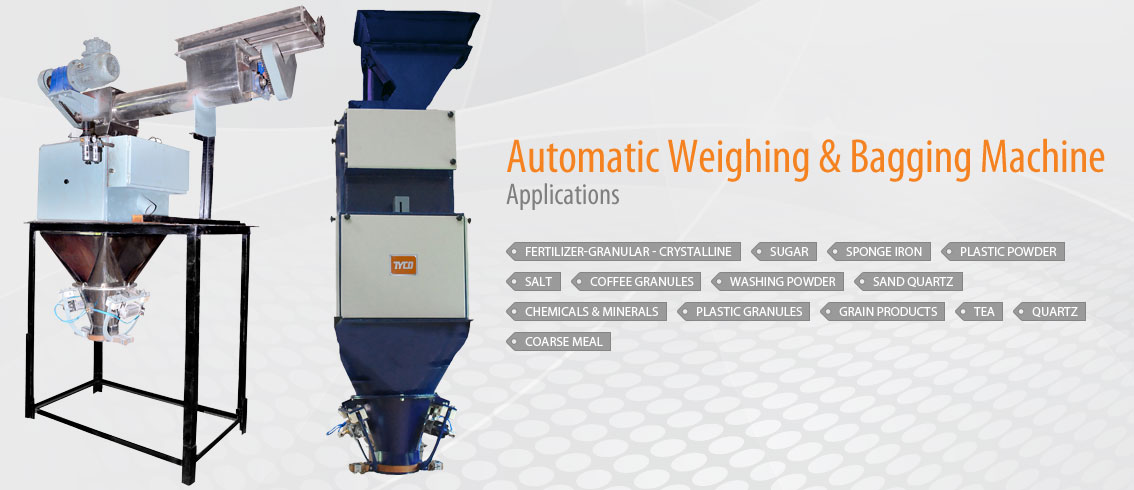 Tyco have designed a compact and versatile system for weighing and packing of Fines, Lumps, Granules & Powdery material. These systems are manufactured in our Nagpur Works to the highest standards based on technology from a reputed manufacturer from Germany. The various kinds of dosing are specifically adapted to the structure of the bulk product handled. This is how the standard-model series develops.
Applications
Fertilizer-granular, crystalline
Sugar
Sponge Iron
Plastic powder
Salt
Coffee Granules
Washing Powder
Sand Quartz
Chemicals & Minerals
Plastic granules
Grain products
Tea
Quartz
Coarse Meal
Tyco Weighing & Bagging Product Range Includes
Net / Gross Weigher– Electro Mechanical along with electrical control panel.
Net / Gross Weigher– Electronic Microprocessosr & Load Cell based.
Twin Weigher Electromechanical & Electronic Microprocessor based.
Net multi-dumping weigher up to 1.5-ton capacity bags.
Depending upon the Application One of the Following Dosing System is Adopted
Types Of Dosing
PE – Shutter
RQ - PE roller dosing
VF - PE chute dosing
S - PE screw dosing
VD - valve dosing
BD - PE belt dosing
Filling Systems
OS - bag - filling spout with clamp for open mouth bags
VS - screw - type filling system for valve bags
SB - centrifugal belt filling system for valve bags
FR - gravity tube filling system for valve bags
The weigher can be combined with Tyco Open - Mouth Bag Placers or Valve - Bag Applicators. This combinations offers a fully automatic sequence of placing, weighing and filling in the case of open mouth bags, an automatic bag closing machine can be added to provide a fully automatic filling and closing system. Manufacturing materials are to suit specific products and their properties.
Tyco underiakes supply of Automatic Weighing & Bagging Machine along with turn key supply of material handling in various Combinations to suit customer requirements including Storage Silos, Bucket Elevators, Conveyors, Lorry Loaders, Stitching Machines etc.